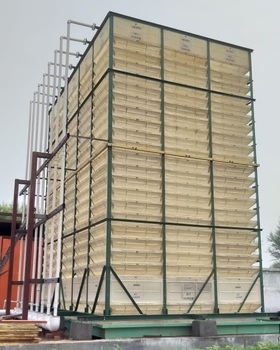 Features and and specifications:
---
Power Saving/ Quick Payback Period: The Jet Tower – Induced Draught Cooling Tower without fan & fills is 100% fan Power Saver.
User Friendly: There are no moving parts – no fan / sprinkler – which makes it totally MAINTENANCE FREE. It's 100% performance efficient, hence no scope or any stand by requirement. It is a 'Tried & Trusted' hence 'Fit & Forget' product.
Constant Efficiency: Jet tower gives you constant efficiency without production breakdown. Absence of moving parts/ fills avoids the problem of ageing / choking making it an efficient product. It also gives you better cooling temperature.
Material of Construction: The material used for the construction of the tower is FRP & MS Lined with FRP which makes it a totally Non-Corrosive product with Class C Spray Pipes with Nylon 6 ejector-jet Nozzles. The louvers are made of 100% FRP moulded with non bending Design. The nuts and bolts for structure shall be HDGI and for FRP louvers shall be glass filled nylon nut bolts.